Excellence in research and development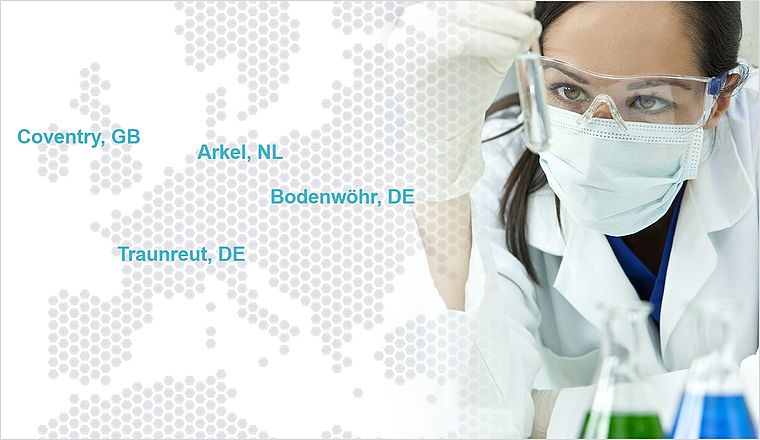 For decades, tremco illbruck has been renowned as a leading European manufacturer of high-performance sealing, bonding and coating products. And this reputation is justified - in our four interlinked technology centres new products are continuously being developed, tested and manufactured. More than 50 research and development (R&D) experts focus on the requirements and wishes of our customers. Learn more by moving the mouse pointer over the map.
Europe-wide technology transfer
Our product groups are divided into six technologies – tapes, membranes, sealants and adhesives, foams and special coatings. In Germany, our technology centre in Bodenwöhr is carrying out research into tapes and membranes; in Traunreut work is being done on sealants and adhesives. At our Arkel location, foams are the focal point of our research. The technology centre for fire protection coatings is located in Coventry.
Outstanding technical expertise, excellent knowledge of local markets, many years of experience and repeated feedback from our customers – this forms the basis on which our technology centre employees develop innovative product solutions. The scientific knowledge exchanges and cooperation between our European networks within specific projects form the hubs in a network which is of outstanding importance to tremco illbruck. Many questions can only be answered as a result of collaboration and technology transfer.
Milestones in project development
tremco illbruck has repeatedly achieved milestones in product development in recent decades. The multifunctional sealing tape TP652 Compriband Trio Plus combines three applications in one. Our quick-curing steel fire protection hybrid coating SC901 and SC902 optimise manufacturing processes and save time and money. Our developments in innovative hybrid polymer technology – such as SP925 air seal
Development in close proximity to the customer
An element of our service philosophy is ensuring that we carry out our research & development work in close proximity to the customer. We carry out development work both for the >>
>> customer and with the customer. As part of this process, not only do we consider the individual product and its function, we also take into account the entire manufacturing process of the customer. We analyse the customer requirements and work to find solutions together with our R&D experts which meet the individual requirements and manufacturing conditions. We are always there for our customers with training programmes and application recommendations to assist with new product launches and technical requirements. In this way, we support our customers in the success of their processes. That's what makes our consulting service stand out.
Trend-setting leadership in technology
Innovations are part of the DNA of tremco illbruck and they are firmly anchored in our corporate values. We continuously search for innovative solutions with regard to products, processes and business models in order to remain one step ahead of the competition. Our success bears out our approach.
The demand for our broad product range and our tailor-made solutions underlines the high level of interest in our innovative portfolio of market-leading products. Thus, tremco illbruck is investing a great deal of resources into the modernisation and expansion of the technical capabilities at our locations. In order to further reinforce our position as leader in our core discipline of sealing, bonding and coating, we are focusing on innovations which create added value for the company and our customers.