Bodenwöhr, Germany – Non-stop quality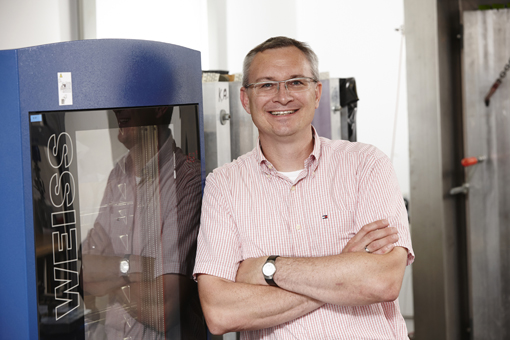 tremco illbruck's manufacturing facility in Bodenwöhr has been operational since 1982. Here in the Upper Palatinate, our activities extend beyond simply manufacturing our pre-compressed and impregnated sealing tapes and window and façade membranes. We also carry out all of the research & development (R&D) activities for the tape and membrane product groups. In doing so, we are not only building on decades of experience. We are relying on our innovative power, which is borne out by numerous patents. The Head of Product Development is Dr. Markus Komma. Over the past 17 years, he has supported the development of the four-person department into a technology centre and prepared numerous tremco illbruck premium products for the market – including real innovations.
Consistent progression to a technology centre
Markus Komma's research team has been driving projects forward for years, including a project concerned with damp management in building structures. He has always kept the benefits to product users and end customers in sight. tremco illbruck revolutionised the market in 2001 with the world's first window membrane. The first generation of window membranes, the unique illbruck Prefab Folie Innen created a seal providing vapour diffusion and airtightness to window joint seals in accordance with RAL installation and the EnEV (Energy Saving Ordinance).
Just a few years later, the first multi-functional tape was introduced: thanks to its particular structure, the first illbruck Trio tape product fulfilled the requirements of all three sealing levels in one single product, a pre-compressed impregnated foam tape which was able to optimally handle all of the strains usually faced by a three-layer seal. Since the introduction of our first trio Generation 2007, only one single product and one single work step is required for a window seal which complies with standards. In 2012, the illbruck pre-wall installation system was awarded the innovation prize econStar. It was judged on innovative power as well as network-oriented, sustainable and cost-effective solutions. Using the pre-wall installation system, it is possible from a structural, noise insulation and assembly perspective to affix windows at insulation level in front of the wall. Window engineers can significantly speed up their processes and will leave a clean connection joint for the façade engineer.
Numerous product innovations mark out milestones in the success story and still today are an important factor in driving growth for the technology centre at Bodenwöhr. The entire company history is characterised by achievements in development which have revolutionised, renewed and driven forward methods of sealing the building envelope.
"With all that we have achieved with regard to development, the quality of our products and services are always measured according to what gains we make",
emphasises Dr. Markus Komma. Extensive inspections for practical suitability and compatibility with health guarantee excellent, flawless and cost-effective results which impress planners, users and building contractors."
Practical tests for quality products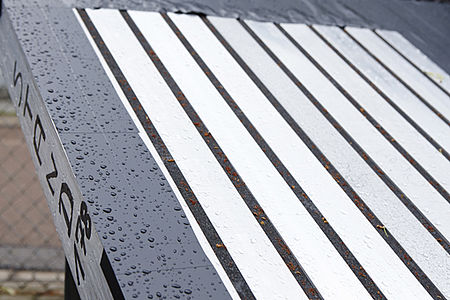 In order to safeguard the high quality standards of our products, testing bays for airtightness and resistance to driving rain are utilised, as are testing tools for pressure and draughts, viscosity measurements plus – since 2016 – an ift (Institute for Window Technology) test wall in Bodenwöhr. However, we do not only rely on tests under laboratory conditions for our quality inspections. We wish to provide practical evidence for our products under real conditions. As the first manufacturer of sealing tapes, we therefore launched an outdoor weathering test for our impregnated joint sealing tape, TP600. Since then, we have left our premium product "out in the rain" in the truest sense of the word. Year after year, it stands up to the most unfavourable weather conditions including ice, snow, driving rain, UV rays and pollen. It is continuously setting records: as the first sealing tape in the world, TP600's performance in long-term outdoor weathering is impressive – and that is after even more than 22 years. Dr. Markus Komma comments: "For us, the significance of this is that we are not only able to make the claim with a clear conscience that our product meets the highest quality requirements." We will also continue to grow our experience-based advantage in order to continue to claim our position as an innovation leader in future." An end to the rain marathon is certainly not in sight for the Head of Product Development.
Innovation leadership through premium products
Our inventiveness, the courage to tread new paths and our ability to invest time and money in the expansion and reinforcement of the locations and technology centres remain guarantees for our success and our pioneering role until now. The objective of tremco illbruck is to shape the market through its innovative developments as a provider of premium products. The high quality of our R&D activities contributes to our achievement of this goal. Energy saving, airtightness, simple and quick product application and renovation of existing buildings – these are the key topics which will present new challenges to our research and development work in the next few years. We are looking forward to it – in our technology centre in Bodenwöhr – and in our other locations.
Sealed joints for crystal clear acoustics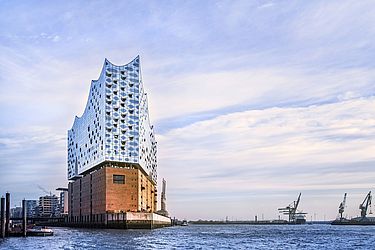 Customers have no doubt that we are innovation leaders. This is demonstrated by one of the most ambitious German construction projects of this decade: the Hamburg Elbphilharmonie Hall. Since January 2017, this building's famed acoustics have been delighting music fans from around the world. Part of the reason why it can do this are the 15 kilometres of joint sealant supplied by tremco illbruck. "The Elbphilharmonie Hall approached us as early as the planning phase", recalls Markus Komma. "The architects had come up with a wonderful, artistic room structure. But nobody had thought about the joints, which are an integral part of the whole system". Designing these joints in a visually appealing way which was commensurate with the exacting acoustic requirements was the task assigned to the application engineers from tremco illbruck. The solution: the premium sealing tape illbruck TP600 Compriband 600. The tape fits the varying joint widths in the wall covering without leaving any gaps and provides clean acoustic decoupling of the individual elements of the "white skin". Learn more. >>

---
---
Learn more about our other technology centres: